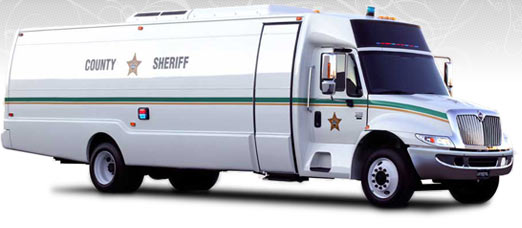 Specialty Vehicles
LAW ENFORCEMENT VEHICLES
Our Prisoner Transporters are built on van and bus chassis.
Prisoner Transport Vans are built on Ford, Chevy and Sprinter chassis. Prisoner Transport Vans can be built to include single or multiple containment areas, wheelchair lifts, infectious disease areas with external exhaust systems as well as a separation wall for the driver and co-pilot.
Prisoner Transport Buses are built on Ford, International, Chevy and Freightliner chassis. You can design your Prisoner Transporter to fit your specific needs and they can be equipped to include single or multiple containment areas, multiple entry doors, property areas, high security containment areas....and the list goes on and on. We can also equip your Prisoner Transport Vehicle with cameras, DVR recording equipment and electronic controlled gun racks. Let us transform your requirement and ideas into a Prisoner Transport Vehicle that will enhance officer performance and safety.
Additionally, we offer armored vehicles, Swat Team Vehicles, Mobil Command Units and Search and Rescue Vehicles.
Professional Vehicles
Over the past 28 years we have developed excellent sources for top quality pre-owned Professional Vehicles. Whether you are needing a Hearse, limousine or Flower car we can locate the one that is right for you. Our new MKT Hearses, 5 door and 6 door limousines will be a great addition to your fleet and will uphold tour image. We also will assist you in obtaining financing.
MOBIL OFFICES
Over the years we have delivered some really
unique Mobil Office vehicles
to our customers. They have included Mobile Office Vans,
Mobile Office Automobiles
,
Mobile Office Buses
, Sprinter RV Camper Vans,
Luxury Sprinter Conversion Vans
,
Golf
Vans,
Golf
Buses, Mobil Salons, Mobil dog grooming Salons, Mobil Physician Buses, Mobil Dentist buses and the list goes on and on.
Contact Us Today
If you are in the market for a specialty vehicle, then
contact us today
! We specialize in customer satisfaction and as you can see, we aren't afraid to make your vision come to life. Apart from the
specialty vehicles
shown here, we also offer
limousines
and
buses
of all styles to fit your needs. Located in Ft. Myers, Florida, we will be glad to make arrangements for shipping your
custom limo
or
limo bus
anywhere in the USA including all ports for export.
For detailed information about our Specialty Vehicles simply click to the left for Specifications and Pictures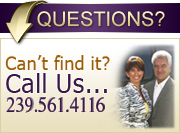 ---